Many people have asked what led me to my journey and decision to become a wedding officiant.

It started with my own experience when I first became engaged, in 1994 in Boulder, Colorado and started planning the early stages of my wedding. Since my now husband and I were from different religious upbringings, we had a difficult time finding the perfect person to marry us.

I remember our Celebrant being very patient, kind, caring, outgoing, spiritual and a wonderful listener and writer. I realized that I had those same qualities and more!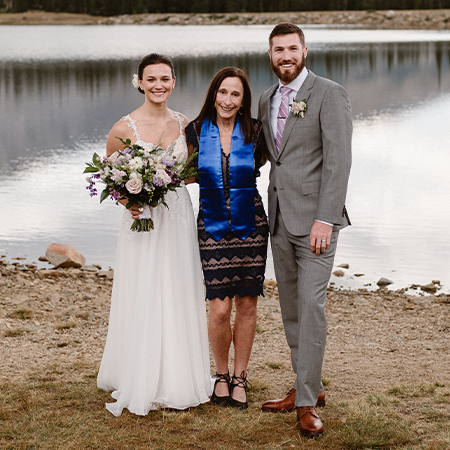 Over the years, my spiritual views matured. I found that my personal views and opinions changed as well. As I watched acquaintances, friends, and family struggle with some of the same issues I dealt with back in 1994, I saw that there was a great need in my own community to serve engaged couples regardless of their personal views, spirituality (or none), religious preference (or none), or character.

I committed myself to what I refer to as "my calling" and studied, then became ordained. Since then, I have had the honor of serving family, friends, and my community in Boulder, Colorado and throughout the United States and beyond. Over the past ten years, my husband has joined in support and can also officiate your ceremony.

It is important to me to uphold the wishes of each engaged couple as their wedding officiant and refrain from passing personal judgement. I have first hand experience in being judged based upon someone else's beliefs. I can honestly say that with each couple I have served, I have upheld this personal promise. I welcome all couples, regardless of their life experiences, backgrounds, personal views, beliefs, and other characteristics. That is what makes us all unique!